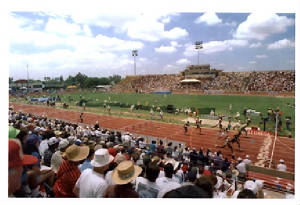 STATE CHAMPIONSHIPS
Friday, June 1st-Saturday June 2nd
SACRAMENTO, CA
(Click on picture for complete coverage!)
Reggie and Darryl enjoyed their time at state and took part in the most exciting state meet in California history which included three NATIONAL RECORDS!!
Click on the state meet picture for complete coverage!!
REGGIE TOPPS CCS CHAMPION!
Congratulations to Reggie Topps for winning the CCS 100 meter final after a rough outing in the long jump! He also placed 2nd in the 200 moving on to state in both events! Darryl Faust saved the best for last with a 2nd place 46 foot plus triple jump on his last attempt to make the state meet! Jovita ran another school record for 5th in the 3200! The boys ended up placing 5th as a team!
STATE MEET THIS FRIDAY AND SATURDAY IN SACRAMENTO!!!
New!!
Reggie puts on a show qualifying 1st in the long jump with a NEW SCHOOL RECORD 23' 9.75" jump! He also blazes the track in the 100 at 10.97 for the 2nd fastest of the day and the 200 at 22.27 for 4th fastest. Reggie is in great postion to win 3 events at CCS Finals!
Darryl jumps a great 45' 11.5" triple for 2nd. Jovita betters here own SCHOOL RECORD at 11:08 for the 3200 and qualifies 4th overall! Stephanie runs 2:24 for the 800 making her the 4th fastest Condor ever! Nadine runs a 5:27 1600 just missing the all-time top 5 by one hundreth of a second! Monica runs a great 49.06 300 hurdles and Antonio and Michael run well at 9:53 and 10:01 for 3200. Frank just misses finals at 49' 2" for the shot and Vianna goes over 100' in the disc.
All IN ALL, A GREAT MEET!
Updated track records with Reggie, Darryl, Jovita, and Stephanie!
2007
MBL CHAMPIONS!!!
Congratulations to the Varsity Boys and Girls for winning their 23rd and 12th MBL Titles respectively and their 5th in a row!
Congrats to the Frosh/Soph Boys and Girls for placing 2nd in league!
"North County Track Rules MBL Finals", says the Monterey County Herald!
"North County Takes Victory Lap", says the Pajaronian. Click here for great article!
Check out the updated school records with Darryl's 45' 11" triple from league finals (#4 All-Time), Frank's 51' 1.25" shot from league trials (#2 All-Time), and Jovita's 11:11.8 3200 from CCS Top 8!
The duals against Monterey were great success with victories for the Varsity Boys and Girls and the Frosh Soph Girls. The Boys/Frosh soph lost their first meet of the year and the teams finished the regualar season with a combined 19-1 record, WOW!!
Click here for top CCS Marks!
Reggie (100, 200, 400, LJ), Darryl (TJ & HJ), Antonio (3200), Michael (3200), Javier (110HH), Frank (SP), and our 4x100 & 4x400 make the list for the boys and Jovita (3200), Monica (300H) and Viana (Disc) for the girls!
Remember, top 3 at CCS go to state!
Alisal Festival was a hit!
The Boys Varsity ran off with 1st place while the Girls Varsity & Boys Frosh/Soph were 3rd and the Girls Varsity 4th.
Great day all-around and another great effort by Reggie winning the 100, LJ, and being part of the winning 4x100!
Click here for meet results!
New! Click for

State Rankings

! Reggie makes the very elite lists in the 100, 200, & LJ!
Congratulations to all four divisions for sweeping Seaside and taking our combined dual meet records to 16-0! Next up is Monterey on Thursday as we seek to finish another undefeated season!
The team had a great weekend at Top 8 Friday night and Kearney Saturday.
On Friday Reggie stole the show winning the 100 (10.94), the 200 (20.30), the LJ (22' 5") and anchored a 5th place 4x400 (3:28) with a 48.5 split! Jovita broke her own school record once again in the 2 mile at 11:12. Michael ran a fine 9:46 2 mile and Darryl was 2nd in the TJ.
Click here for Top 8 results!
Saturday was highlighted by Frank's first time over 50 feet in the shot moving him to #3 all-time at NMC!
Click here for Kearney results!
Nice article from Pajaronian on Quad Meet wins!
Nice efforts at the Quicksilver Meet, including school records in the mile (5:17) and 2 mile (11:22) for Jovita Trujillo!
KING CITY CHAMPS!
Both the Varsity Boys and Girls came away with the titles and the Frosh/Soph boys added a nice 3rd place effort!
Click here for full results!
Go Condors!
3/29/07 Our league defense starts off brilliantly with a sweep for all four divisions of Watsonville, MVC, and Pajaro Valley! The teams are now 12-0 in league and will look forward to meeting Seaside and Monterey!
Click below for full results!
Check out the recently updated ALUMNI runners page with Ivan and Albert added to the list that includes Nate, Keli, Pelon, Jose, and Mike!
Pelon runs 3:59 1500 and Jose runs 9:40 steeple at Sac State! Keli and Nate should race soon and Ivan, Mike, and Albert are tearing it up at Hartnell!
3/17/07 St. Francis results are hot with Antonio 2nd in 3000, Machado 3rd in 3000, and Reggie 3rd in 100!
3/10/07 Wildcat Relay Results!
3/1/07 The season kicked off with a scrimmage at Aptos. North Salinas also participated.
The Condors soared and were led by event winners Reggie Topps (200-22.4 & 400-51.2), Michael Machado (800-2:09), Jesus Ayala (1600-4:40), Frank De La Torre (SP-45' & Disc 127'), and Javier Alvarez (PV-11').

Date

2007 Track Schedule

Coverage

2/22

NMC & Los Banos @ Hollister

Canceled due to rain

 

3/1

NMC @ Aptos

Fun scrimmage on nice track!

 
 
 
 

3/3

Co-Ed Relays @ Leland HS

Boys & Girls run together!

3/10

Wildcat Relays @ Watsonville HS

Great relay meet!

3/10/07 Wildcat Relay Results!

3/17

St. Francis Invite @ St. Francis HS

Fun meet

3/29

NMC, PV & MVC @ Watsonville

Dual on nice track!

 

3/30

F/S CCS Top 8 @ Los Gatos

Best in CCS go at it!

 

3/30-3/31

Stanford Invitational

Elite statewide meet!

3/31

King City Invite @ King City

New meet for us!

4/6-4/7

Arcadia Invite @ Arcadia HS

Huge national meet!

4/19

NMC @ Seaside

Dual at the beach!

 

4/20

CCS Top 8 @ Los Gatos

Best in CCS go at it!

4/21

Bill Kearney Invite @ Hartnell

Fun local invite!

 
 
 
 

4/28

Alisal Festival @ Alisal

Great tune-up for league!

 

5/3

NMC @ Monterey

Good re-match from 2005 & 2006!

 
 
 
 

5/10 Trials

5/12 Finals

MBL Finals @ Watsonville

We'll try to make school history with a 5th league title in a row for Varsity Boys & Girls!

 

5/19

Gotta get to Finals!

5/25

CCS Championships @ Gilroy HS

Top 3 go to state!

6/1-2

State Champs @ Los Angeles

State baby!!!!

6/10

Golden West Invite @ Sacramento

Nate made it 3 years ago!

6/15-16

National Championships @ North Carolina

Let's see who qualifies this year!

6/21-24

Junior Nationals

Nate placed 6th and made All-American 3 years ago!