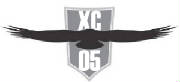 Congrats Ivan!
Ivan wraps up his cross country high school career with an HONORABLE MENTION award from CCS. Congratulations! Click on the link for full lists!
STATE CHAMPIONSHIPS!
Congratulations to the team for competing in a school record 4th year in a row at the State Championships over the weekend in Fresno. The young squad gained some valuable experience with an 18th place finish at state. The team was led by Ivan Alfaro at 16:44. Super sophomores Michael Machado and Antonio Dorado were next in 16:57 and 17:19. Roberto Romero, Manuel Esparza, and Mike Palmtag were together and came in with identical times of 17:29. Miguel Camarena rounded out the scoring at 17:41. Congratulations guys for a fantastic year with a 15th league title and a 4 year streak at state! Keep working hard and 2006 will be even better!
CCS Championships!
Congratulations to the team for making team history by qualifying to the STATE CHAMPIONSHIPS for a 4th year in a row!! The young squad placed 3rd to punch their tickets to state and were led by Ivan Alfaro in 7th making him the 2nd Condor ever to make the 1st team CCS in back to back years!! Good luck guys as you prepare for state on November 26th!
Click below for all sorts of coverage!
Updated Wall of Fame with 2005 Cross Country Results!!
Back to Back to Back to Back MBL Champions!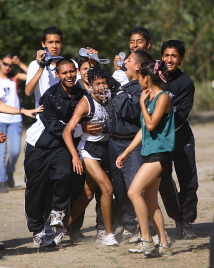 MBL Pictures!!!
Order pictures from MBL!
Adriane is giving us 50% off the shots!

Jose & Grecia lead Hartnell to Conference Title!
Mt. SAC & Mont. Bay
Undefeated in Duals!
Cal Poly Invite!
Nate places 16th!
Keli places 25th!
Hartnell beats Orange Coast!
Jose breaks Hartnell Record!
 

Center Meet at Crystal

The Varsity did a nice tempo on the CCS course and placed 19th. The JV stole the show with the win by 55 points!
The sophomores were 6th with Jesus winning the race!
Click below for results!
 

Best team race of the year! Ivan leads the group at 16:29 and only 7 seconds separate 2-5! We place 4th loosing only to 3 state ranked teams! Click below for team results, an updated PR list, and an updated team record list for Woodward!

New! Clovis Pictures!!
Alisal & Alvarez Duals
Great race with many personal bests!
Antonio & Luis are a couple of the big stars!
Click here for our teams marks and for an updated personal bests list!
6-0 in league so far!
 

Maybe the best team race so far this year!

Ivan leads the squad placing 4th and the youngsters shine once again!

Varsity places 4th in team time behind state DI powers.

The pool party with Madera may have been even better!!!!

Click below for results and pictures!
Scrimmage Meet
Fun meet with San Benito, Madera, & the New Zealand team!
Var 4th, JV 2nd, & FS 3rd!
Stanford Invite!
The Varsity places 10th with some good running from the youngsters!
 

Chieftain Invitational

The young guys steal the show and help lead the Varsity to a 3rd place finish. JV's run a strong 2nd and FS 6th.
Click below for complete coverage!
2005 Earlybird Invitational!

September 10th, 2005

North Monterey County HS

 
Date

2005 Schedule

Coverage

Toro Team-builder @ Toro Park, Salinas

Varsity 1st! FS 1st! JV 2nd!

We hosted over 50 schools!!!

Chieftain Invite @ Toro Park, Salinas

Varsity 3rd, JV 2nd, FS 6th!

Stanford Invite @ Stanford

2 time defending champs!! We place 10th in 2005.

San Benito, New Zealand team, & Madera @ Park Hill, Hollister

Var 4th, JV, 2nd & FS 3rd in fun scrimmage!

Madera Invite @ Town & Country Park, Madera

Great team effort for 4th overall!

Pajaro Valley, Alisal, & Alvarez Duals @ Natividad Creek Park, Salinas

 

Clovis Invite @ Woodward Park, Fresno

Varsity 4th and JV 6th on State meet course against elite competition!

Center Meet @ Crystal Springs, Belmont

Nice tempo for the Varsity, JV wins!

Monterey Bay Invite @ Toro Park, Salinas

Cal Poly Invite @ San Luis Obispo

2nd in Varsity and JV wins again at first time meet for us at Nate's new school!

Pajaro Valley, Seaside, Monterey, Monte Vista Christian, & Alisal @ Alisal

We sweep the league once again! 67-0 over the last 4 years!

Mt. Sac Invite @ Mt. Sac College, Walnut

Fun trip down south for HUGE meet!

MBL Finals @ Toro Park, Salinas

FOUR TIME DEFENDING CHAMPS!!

CCS Finals @ Crystal Springs, Belmont

Two-Time DEFENDING CHAMPS go for THREE!!

State Champs @ Woodward Park, Fresno

State baby!!!! 12th in 2002, 4th in 2003, 2nd in 2004!! What about 2005?

Footlocker West @ Mt. Sac College, Walnut

Open meet to try to make Nationals!

 

Nike Team Nationals @ Portland, Or

Top teams go for National team title!

 

Footlocker Nationals @ Balboa Park, San Diego

Top individuals go for National title!