New! 2018 XC Schedule including the 1st ever Jackie Henderson Invite at NMC!
Check out or most recent pictures HERE! Thanks to Coach Machado!!!
Congrats to Jocelyn Cazarez who has moved to #2 all time at NMC in the discus (125' 1") and to Sarah Delgado who is now #3 all time in the 800 (2:19.6)!
Check out the updated school record board here!
Come join us for our 1st Annual Jackie Henderson Memorial Cross Country Invitational on Saturday, October 6th, 2018 on the campus of North Monterey County High School! There will be an open race to start the meet at 8:30 am for anyone wanting to run in her honor #runlikejackie
Check out the event details at our event website
Jackie Henderson Memorial Invitational Website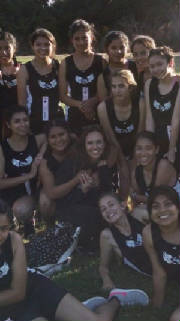 RIP Coach Jackie Henderson
7/25/89-7/14/17
#runlikeJackie
EARLYBIRD IS SATURDAY, SEPTEMBER 15TH AT TORO PARK IN SALINAS!
PLEASE VISIT OUR NEW EARLYBIRD MEET WEBSITE!
It's a site that will track our performances.

It's awesome!

Check out team and individual records all the way back to 1993 meets by clicking on "Subscribing schools"!

You'll need to register!!

Our team registration code is condorsxc#

Let me know if you see any mistakes or need help.

 

Add your content here
Avis Kelley Trophy

(Awarded to the Top Overall Cross Country Program in the Monterey Bay League)

 

1982-Gilroy
1983-Live Oak
1984-Gilroy
1985-Gilroy
1986-Live Oak
1987-Live Oak
1988-Live Oak
1989-Live Oak
1990-Live Oak
1991-Salinas
1992-Live Oak
1993-North Monterey County
1994-North Monterey County
1995-North Monterey County
1996-North Monterey County
1997-North Monterey County
1998-San Benito
1999-North Monterey County
2000-San Benito
2001-North Monterey County
2002-North Monterey County
2003-North Monterey County
2004-North Monterey County
2005-North Monterey County
2006-North Monterey County
2007-North Monterey County
2008-North Monterey County
2009-North Monterey County
2010-Monterey
2011-Monterey
2012-San Benito
2013-San Benito
2014-Salinas
2015-Salinas
2016-Salinas
2017-Alisal
2018?
1st Annual O-Condon Invite April 6th at NMC was a huge success!
Coverage below!
Check this link below for Track and Field results throughout the year! Click on the green link next to the event name to access them!!
Track and Field RANKINGS!

 
Visit our xc stats page for all things Cross Country!