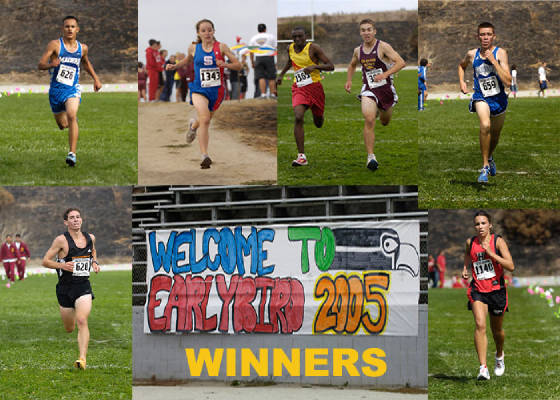 NEW!
9/13/05 Pajaronian covers Earlybird!
Complete Dyestatcal coverage with results, pictures, etc.!
Lynbrook High coverage including results, pictures, and stories!
400 Meet Pictures at Track & Field Photo.com!!
2005 EARLYBIRD REVIEW!!!
WOW! WOW! WOW! Earlybird 2005 was BY FAR the greatest and most thrilling of them all! We'll start by giving you a taste of the results. Four races into the meet and we had four new meet records! Not only that, they were being broken by 20-30 seconds, unheard of at a meet this size. The team results also re-wrote the meet records including a new team time record! Great conditions early on, the deepest field in meet history, and a fantastic crowd made it a meet to remember. It'll also be remembered as the meet where some of the best youngsters in the state introduced themselves as the next stars in our sport! On to the details!

The freshmen boys race is usually a race for the youngsters to get their feet wet. Not in 2005! Jesse Arrellano (Madera) was out fast and never looked back. Early on we knew it would be special and that the Madera crew had found another gem. The clock stopped at 16:21 for a new meet record by 21 seconds! It was the start to a great day. Dane Gradone (Aptos) may be the next find in the Aptos tradition as he also dipped under the old meet record at 16:40! Third went to Adriane Rodriguez (San Benito) at 17:06 good for 6th on the all-time lists. The first six finishers made it onto the all-time top ten freshmen list! Jesse also helped lead a Madera team win here with 66 points. St. Ignatius was 2nd (88) and San Benito 3rd (89).

The frosh/soph girls' race is usually a low-key affair. Forget about it today! Freshman Katy Daly (St. Ignatius) took off in a mad dash and BLASTED an 18:03!!!!! Ladies and gentlemen, not only is this a record for the frosh/soph girls race, it TIED the varsity course record set by none other than Ciara Viehweg also from St. Ignatius back in 2002! Hayley Pascale (Carlmont) was the other super star freshman on hand and rocketed to an 18:51, good for 7th all-time at Earlybird! Her teammate Justine Fedronic (Carlmont) came in 3rd at 19:41 and the two of them help lead Carlmont to the team win with 53 pts. St. Ignatius grabbed another 2nd with 85 pts and Los Altos was 3rd with 94.

The sophomore boys didn't want to be left out of the fun and they didn't disappoint! Early on it was all Mohamed Abdalla (Willow Glen) as he scorched the course and pulled several guys to a blistering pace. We thought the youngsters would struggle late. Instead, Eric Battles & Andrew Campbell, the dynamic duo from Clovis West, challenged late and Eric and Mohamed had the best down the stretch finish in Earlybird history! The exchanged the lead several times in the last 400 meters and they went shoulder to shoulder the last 80 meters. They both leaned and Eric Battles (Clovis West) was rewarded with the win at 15:39 good for a new meet record by 23 seconds! Mohamed was 2nd at 15:40. Andrew was 3rd at 15:47. Brad Surh (Carlmont) was 4th at 16:02 equaling the old record. All in all, 7 guys made the all-time top ten list! WOW! Eric & Andrew guided Clovis West to a 20 point win with 74. Los Gatos was 2nd with 94 & Serra 3rd with 104.

The junior boys were now feeling the pressure as the youngsters were putting on a show! Matt Petrillo (Los Gatos) had seen his sophomore record demolished earlier in the day and thought he'd like to go home with another record! He did just that as he out-dueled Marcos Corona (Willow Glen) for the win at 15:32 breaking Alex Dunn's (San Lorenzo Valley-2002) mark by 12 seconds! Marcos wasn't far back as he kicked hard and closed in 15:35, also under the old mark. Rigo Vasquez (San Benito) was 3rd at 16:00 making him the 8th fastest junior ever. In 4th was Nathaniel Richardson (Madera) at 16:10 also making the all-time top ten lists. Los Gatos wanted the double win and got it with a solid team effort with 54 points. Madera closed hard and come up short by 1 point in second with 55. Bellarmine was 3rd with 207.

The varsity girls were really on the spot with all of the madness! The clouds broke and the temperature went up a tad to slow them up just enough. Amanda Boyd (San Benito) blasted the start and never was challenged on way to an 18:22 effort good for 6th all-time. Jessica Vanausdall (Aptos) kept the other challengers at bay at 18:49 good for 9th all-time. Renisha Robinson (Mitty) kicked hard and came in 18:55, good for 3rd and 10th all-time. Brianna Larson (Las Lomas) was 4th at 19:02 and Christina Barrientos (Harbor) will carry on the family name with her 5th place showing at 19:10. Monta Vista used 3 scorers in the top 10 for the win at 68. Harbor also had 3 in the top 10 for 2nd with 101. Mitty was 3rd with 108.

The senior boys saw a rocket start by Enrique Lopez (Alisal) that may have stung the pack early on and they seemed to never recover. Julio Moreno (Madera) ran hard late for the win in 16:11 good for 10th on the all-time list. Enrique held on for 2nd at 16:15 and Jonathan Gragert (Evergreen Valley) closed fast in 3rd at 16:19. Madera wanted some more hardware and got it with the win with 74 pts. St. Ignatius also wanted more medals and was 2nd at 91. Bellarmine was 3rd at 127.

The JV girls wrapped up the races with a clinic on team running. Monta Vista followed up their varsity win and scored a perfect 15 for the JV team win! Rachel Berglund (Evrgreen Valley) won the individual race without a complete team at 21:15.

The boys ran in grade levels so we'll let the combined team times tell us the story. And…. The story is MADERA!! They graduated 6 of 7 from the state meet 4th place team. They're re-building and not as strong as last year. Right? WRONG!!!!! They BLASTED the course today on their way to an amazing 81:11!! Good enough to improve their own meet record of 81:54 from 2003. Last year they ran about a minute slower than they did today and they ended up 4th at state. These guys are the real deal as their youngsters have become some of California's best! 21 seconds separated their top 5 (16:04-16:25) and 34 seconds separated their top 7 (16:04-16:38). And, the 16:04 is good for 11th on the all-time lists at Earlybird. Not too shabby! Willow Glen led by the fabulous youngsters cranked an 82:27! That time TIES them with North Monterey County for the 2nd fastest time ever at Earlybird. North Monterey County ran that last year and went on to place 2nd in state in Divison II. Willow Glen will compete in Division III at state this year and could be looking at the top spot on the podium with that kind of mark today! Clovis West led by their super sophomores, was 3rd at 82:30, only 3 ticks on the clock after Willow Glen and good for 4th all-time! Los Gatos flew to an 82:39 good for 5th all-time! Carlmont rounded out our top 5 at 83:50, good for 6th all-time!

At Earlybird we award and OVERALL TEAM CHAMPION plaque to the best combined program (boys and girls) and this year it came down to a one point win for Madera! The Coyotes put on a running clinic with a couple of team wins plus other top 6 places.

Congratulations to all the athletes and a big THANK YOU to all of you that helped make the meet the best ever! Remember, although our course will be altered to make room for a new middle school, THERE WILL BE A 2006 EARLYBIRD!! Please join us again!

Now, FOR SOME SLEEP!!!!

Coach Ibarra

North Monterey County Cross Country
2005 Earlybird Preview
2005 Earlybird Invitational Preview by Coach Gustavo Ibarra
Anticipation is running high as the 2005 cross country season kicks off with the 11th Annual Earlybird Invitational hosted by North Monterey County High School in Castroville, CA! This meet promises to be the best yet as more than 50 teams and almost 2,000 athletes are expected to participate this Saturday, Sept. 10th. This just may be the most competitive early-season meet in the state of California!! State and section ranked teams and individuals will once again rip through the spectator friendly 3.0-mile course. Sections represented are the Central Coast (CCS), Central (CS), Saq Joaquin (SJ), and the North Coast (NCS). As cross country is a true team sport, we'll start by highlighting the top teams followed by the top individuals.
Let's get started with the girls. Aptos comes in with the best 1-3 punch around and is ranked 1st in CCS DII as they drop in divisions for 2005. If they can keep their 1-5 gap respectable, they may be too tough to beat. They are defending section champions in DI and placed 15th at state last year. Mitty comes in ranked 3rd in CCS DII and could challenge with their depth and great up-front running. They are also defending section champions from DII. Monta Vista comes in ranked 1st in CCS DI. They were second to Aptos in section last year and placed 19th at state. Last year they ran the 8th fastest team time ever at Earlybird. Madera returns three out of their top five and comes in ranked 4th in DI in the CS. St. Ignatius is ranked 3rd in CCS DIII and welcomes a fine freshman. Evergreen Valley comes in ranked 2nd in CCS DI. Escalon is ranked 3rd in SJS DIV. Presentation is ranked 4th in CCS DIII. The King's Academy is ranked 9th in state & 1st in CCS DV. San Benito is ranked 4th in CCS DI.
The race for top individual girl honors could be fierce as several of the top harriers in the state converge in the varsity race! It's going to be an Amanda show with our two pre-meet favorites! Amanda Moreno (Escalon) comes back to town after a fantastic 10:35 2 mile good for 2nd in state! She is the top ranked runner in state DIV! Amanda Boyd (San Benito) has developed into an all-state prospect and has incredible leg speed! She comes in ranked just outside the top 10 in the state DI and is our co-favorite for the win after a fine 10:54 2 mile in the spring. If the top two are to be challenged, Briana Larson (Las Lomas) is the upset pick. She has experience on her side as she was 2nd in this race last year with a splendid 18:42 making her the 5th fastest all-time. She's ranked just outside the top 10 in state DII. Renisha Robinson (Mitty) was a super talented age grouper and boasts tremendous speed with 2:11 800 credentials that could help her kick for a huge upset. She comes in ranked 9th in state DII and placed in the top 15 last year at state. Teammates Meghan Hunt, Jessica Vanausdall, & Amy Schnittger (Aptos) should keep the pace honest early on as they work together to take some sting out of the kickers. Christina Barrientos (Harbor) has a huge family tradition on her side and should challenge for a top 5 finish. Keep an eye on super freshmen Katy Daly (St. Ignatius) & Hayley Pascale (Carlmont) who have been busy breaking all kinds of age-group records! Other ladies to watch include Samantha Baker (Evergreen Valley), Arely Marquez (Yerba Buena), Zoe Unruh (St. Ignatius), and Stephanie Cham (Monta Vista).
The boys will put on a show with the highest quality field ever assembled at Earlybird!! Many state and section ranked squads & individuals highlight the meet. If that's not enough, how about a CCS preview? 9 out of the top 10 ranked CCS squads are here! For the boys, races will be run in grade levels but the top five times will be combined to score the meet by team time.
Madera returns from the Central Valley to defend their "team time title" from the last three years and should do it in fine style. In fact, last week they defeated Jesuit, the 10th ranked team in the United States! Two years ago they ran 81:54 making them the fastest ever at Earlybird. Last year they placed 4th at state in DI. They're currently ranked 21st in state in DI but will rocket up those rankings very soon. They have done a masterful job re-building, better yet, re-loading, after graduating 6 varsity runners. Willow Glen comes in ranked 2nd in state & CCS in DIII and features some of the finest young runners in the state. They were 8th in state last year and they return everyone from that squad! St. Ignatius comes in ranked 3rd in CCS and 5th in state in DIII and placed 7th in state last year. Serra comes in as the top ranked DI squad in CCS and is putting together a fine up-front trio. They placed 12th last year at state and are the defending section champions in DI. Host North Monterey County returns some key seniors and features the finest youngsters to ever come through their program. Last season the team had its best season ever on way to another section title and a 2nd place state finish. They ran 82:27 last year making them the second fastest ever at Earlybird. They enter the season ranked 5th in state and 1st in CCS DII. Los Gatos is ranked 2nd in CCS DII and has a load of talent back. Watch out for this crew in 2005, they could soon return to the level of the Los Gatos teams we know of! San Benito is loaded up-front but needs to close their scoring gap to challenge here. They are led by the finest 1-3 junior punch around and could crack the state top 25 DI rankings soon. They come in ranked 2nd in DI CCS. Clovis West has a couple of the best sophomores in the Central Valley leading them and could mix it up with a solid 3-5 effort here. Mitty is ranked 3rd in CCS DII and is capable of big things in 2005! Bellarmine, ranked 3rd in CCS DI, is a traditional power that has re-built nicely and could crack the top ten with more than 100 guys on the squad! Finally, Los Baņos has put together a nice crew for 2005.
In the senior boys race the defending champ is back and on his home turf. Ivan Alfaro (North Monterey County) won the junior race last year in 16:06 making him the 4th fastest junior ever. Jaime Gonzalez (Westmoor) is an amazing all-around athlete. He made the state track meet in the long jump going over 23 feet! Julio Moreno (Madera) is the lone varsity returnee of his squad and could challenge for the win. He placed 10th last week at the Granite Bay Invite. Juan Gutierrez (Yerba Buena) returns after a fine 2nd place at 16:22 last year. Nick & Robert Alvarado (St. Ignatius) and Michael & Steven Borg (Serra) would like to win the battle of the brothers. Matt Snyder (St. Ignatius) will give the Alvarado brothers a hand. He comes in ranked just outside the top 10 individuals in state DIII. Enrique Lopez (Alisal) was 4th last year and should challenge. Teammates Josh Hernandez & Jonathan Gragert (Evergreen Valley), Jeffrey Sanchez (Silver Creek), & Cisco Heath (Anzar) are ones to watch.

In the senior team battle, look for a Serra & St. Ignatius battle for the win with Madera, Bellarmine, and host North Monterey County fighting for 3rd.
In the junior boys race we could see a fight to the end with Matt Pettrillo (Los Gatos), Marcus Corona (Willow Glen), and Rigo Vasquez (San Benito) being tabbed as pre-meet favorites. Matt destroyed the Earlybird sophomore record last year on his way to a fantastic 16:02 clocking. Marcus is currently 7th on the state individual rankings for DIII and impressed with a 4:19 mile as a sophomore. Rigo has made huge strides running 9:39 for 2 miles in the spring. Both Marcus and Rigo could make it difficult for Matt to repeat as meet champion. This bunch could take a crack at Alex Dunn's (San Lorenzo Valley) junior course record of 15:44 set in 2002. Wes Buntman (Monte Vista Christian) is ranked 10th in state DIV and could join the fun up-front. Robert Broderick (Serra) is the leader of his strong squad. Greg Surh (Carlmont) and Eder Marcial (Madera) return to try to duplicate their top five finishes. Nathaniel Richardson (Madera), Matt Snyder (St. Ignatius), Gurwinder Singh (Atwater), & Eddie Trujillo (San Benito) are ones to watch.
The team race should be a Madera show with a challenge from Los Gatos. San Benito and St. Ignatius have great leaders but will need some support to claim the last team medal here.
In the sophomore boys race we could have one of the deepest and best individual battles in Earlybird history! Michael Landry (Santa Cruz) demolished the freshmen course record last year by 42 seconds with a stunning 16:42 and won the Toro Teambuilder Invite last week. But, we believe he'll have his hands full to defend his win here. Mohamed Abdalla (Willow Glen) makes his debut at Earlybird and it could be special. He's 9th in the state individual rankings for DIII and clocked an impressive 4:25 mile as a freshman. Brad Surh (Carlmont) is another upset pick with a great race here last year at 16:46 and a fantastic spring track season. Eric Battles (Clovis West) is hot after a fine 4th place finish at the Granite Bay Invite and could pull off the win. Javier Sanchez (Madera) may be the most improved of the bunch, keep an eye on him up-front. Andrew Campbell (Clovis West) would like nothing more than to join his teammate in the top 5. Isai Orea (Madera) was 3rd last year but may find the field a bit too deep to repeat that finish. Teammates Michael Machado, Miguel Camarena, & Manuel Esparza (North Monterey County) will benefit from some team running to try to grab an individual top 10 medal. Keep an eye on Diego Estrada (Alisal) & Dane Sawyer & Michael Johnson (Los Gatos).
The sophomore team battle could be fierce between Madera, the defending frosh champs, and a much improved North Monterey County crew. The two teams did some training together over the summer and will have a great time racing. We're calling this one a toss-up! Clovis West with their fantastic leadership is not going to roll over. St. Ignatius should contend for another top three team finish. Los Gatos is our team sleeper here.
The freshmen boys are always the great mystery but at least they won't go the wrong way with our lead bicycle!!
2005 EARLYBIRD WILL BE THE BEST EVER, GUARANTEED!
Visit our meet website for complete coverage! https://nmcxc.tripod.com/

Alisal
Anzar
Aptos
Atwater
Bellarmine
Carlmont
Clovis West
Escalon
Evergreen Valley
Harbor
James Lick
King's Academy
Las Lomas
Los Altos
Los Banos
Los Gatos
Madera
Manteca
Merrill West
Mitty
Monta Vista
Monte Vista Christian
Monterey
North Monterey County
Notre Dame Belmont
Notre Dame Salinas
Notre Dame San Jose
Pajaro Valley
Piedmont Hills
Pioneer
Presentation
Sacred Heart Prep
San Benito
Santa Cruz
Santa Teresa
Seaside
Serra
Silver Creek
St. Francis Central
St. Ignatius
Westmoor
Willow Glen
Yerba Buena

Click here for a satellite shot of the course with mileage! Play with it to measure your own runs!
1st 1/2 mile-The start is on grass and it quickly narrows onto a dirt path. In a large field it's good to get out quick! There is a slight downhill for about 100 meters followed by a slight up hill for another 100 meters as you head onto the "short cross country" loop. The loop is run counter clockwise. The back side of the loop has a slight dowhill and a 5 meter "speed bump". You run behind the announcer's booth and head back to the dirt path. The first half mile ends as you hit the downhill towards the track.

2nd 1/2 mile- On the downhill you head onto the track and take a sharp left (new in 2003) to complete a full lap (clock wise) on the track while smiling to all the pretty girls that came to cheer you on (or boys for that matter). As you complete your full lap you'll take another sharp left and head up a steep short hill and run the loop that goes right behind the east bleachers. To finish your first mile you'll go around the concesions/bathrooms and run up the "speed bump" once again. The mile marker is at the top of the little "bump". 1/3 of the way done!

3rd 1/2 mile- You'll head behind the announcers booth once again and back onto the downhill trail. As you go down the slight hill get ready to turn right and get onto the "long cross country" loop. This loop is also run counter clockwise. The loop starts with a slight up hill and then a slight down hill. The loop gets exciting as you hit the hills! First is a longer steep hill (about 150 meters) with a slight leveling out at the top followed by a slight up hill (20-30 meters). As you turn and head back you'll find a nice downhill to stretch those tight legs out! Your coming up to the half way point in the race. The 1.5 mile marker is right before your next slight uphill.

4th 1/2 mile- A slight uphill starts this 1/2 mile with some hope as you crest the hill and see the track once again. You'll head right and run down a slight downhill and then come around behind the concessions/bathroom once again. This time you'll turn right and head behind the baseball/softball fields instead of going behind the announcers booth. You can open up that stride as the next 1/4 mile is all flat! You'll go around all the backstops and find the 2 mile mark as you make a right hand turn around the shed.

5th 1/2 mile- The good news? Only 1 mile to go! The bad news? You get to go do the "long cross country" loop once again!! Fly through the hills and when you crest for the final time and catch a glimpse of the track you'll have exactly 1/2 mile to go!

6th 1/2 mile- Fly down the last slight downhill and head behind the concessions/bathrooms once again. Sprint behind the announcers booth and head on down to the track. As you step onto the track (you'll go counter-clockwise this time) you'll only have 250 meters to sprint so get going, no time to waste!!! The finish is halfway down the football field, smile as you cross the line!!