Resting the top 3 guys, the team still managed a 2nd place Monterey Bay Invite finish and the JV ran away with it.
2003 Monterey Bay Invite Results
Clovis Champs!
Led by Nate's outstanding first place in 15:40 and Keli in 3rd, the team ran to first place in the small schools race at Clovis!!
The frosh/soph led by Ivan's 16:57 was 3rd and the JV led by Sam's 17:43 were 5th!
Click below for meet results and pictures...
Stanford Champs!
Powered by great team running, both the JV and Varsity boys ran away with the Stanford Invitational titles!!
Click below for results and pictures!
The Artichoke Invite was a blast!
Our Varsity was resting but our JV stepped in and did a great job running to a 7th place Varsity finish and our second team JV squad was second!!
Click below for details...
The Varsity, Junior Varsity, and Frosh/Soph teams are currently a combined 15-0 with victories over Seaside, Alisal, Alvarez, Monterey, and MVC!!
What a weekend! Most of the team started it off by running great at the Chieftain Meet. The JV team won with our "C" team and the Varsity was 3rd with our real "B" team!! Great job to all. Ivan Alfaro paced the crew with a fine 17:08 for a top 10 Varsity finish!
Our "A" team headed south and well, they tore it up! Running pretty tired (hard week of training) and holding back, they still cruised to a 7th place finish among the elite teams in California. We were the only small school in the top 15!!!
Nate led the way to a breakthrough 14:46 good for 8th in cruise control! 5 guys under 16:00 wrapped the team scoring and we're right on track to our ultimate goal...
STATE CHAMPS!!
Click below for full results
The team ran to a controlled 2nd place finish at the Ed Sias Invite and easily defeated teams like Jesuit and San Ramon Valley.
Wait until they are let loose!!
Frosh/Soph boys 1st!!
JV Boys 2nd!
Frosh Boys 9th!
Click below for meet results & tons of pictures!
The Californian ranks us first in the area with some coverage for some of the guys and the Pajaronian covers the Earlybird.
Click below...
9/11/03 Pajoronian covers Earlybird
After Earlybird, the team hits a historic first, RANKED #1 in California!!! Now the work begins to actually WIN State!!
GO CONDORS!!
Click to the left for updated State Rankings
The 2003 9th Annual Earlybird Invitational on Saturday, September 6, was a hit! Nathan Huerta leads the Condors to a 2nd place overall placing with a 15:51!!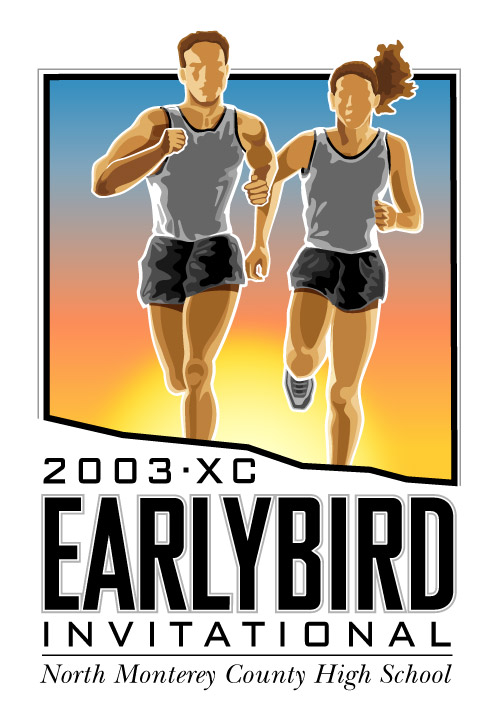 Thank you to the following sponsors for making 2003 Earlybird possible!
Castroville Round Table Pizza
TNT Action Photography
Fleet Feet Sports
Duke Energy
Ocean Mist Farms
The Don Chapin Company, Inc.
Granite Rock Construction
whalesofrandypuckett.com
Castroville Chiropractic Clinic
Norma's Family Restaurant
Click here to buy pictures from "TNT" from the meet!
Pictures!
State Team Rankings!
11/27/03 PRE-STATE RANKINGS
1. North Monterey County, Castroville (CCS)
2. Campolindo, Moraga (NCS)
3. Miramonte, Orinda (NCS)
4. San Luis Obispo (SS)
5. St. Francis, Mountain View (CCS) .
6. Burroughs, Ridgecrest (SS)
7. Diamond Ranch, Pomona (SS)
8. Barstow (SS)
9. St. Ignatius, San Francisco (CCS)
10. Bishop O'Dowd, Oakland (NCS)
Click here for updated California State Rankings
CCS Team Rankings!
WE WON AND THAT'S ALL THAT COUNTS!!!
11/27/03
1 North Monterey County
2 St. Francis
3 Carlmont
4 Carmel
5 San Benito
6 Salinas
7 Gunn
8 Watsonville
9 Monta Vista
10 Serra
11 San Lorenzo Valley
12 St. Ignatius
13 King City
14 Half Moon Bay
15 Milpitas
Click here for updated CCS Rankings
State Individual Rankings!
1. Jake Schmitt (Redwood-NCS)
2. Daniel Nunn (San Luis Obispo-SS)
3. Michael Coe (Cabrillo, Lom-SS)
4. Nick Mosey (Servite)
5. Nathan Huerta (North Monterey County-CCS)
6. Scott Balcao (St. Marys, Stockton-SJS)
7. Andrew Tachias (Covina-SS)
8. Joel Buscheck (Miramonte-NCS)
9. Jared Zurn (Burroughs, R-SS)
10. Ben Sitler (St. Francis, Mtn. View-CCS)
Click here for updated individual state rankings
CCS Individual Rankings!
Alex Dunn 12 San Lorenzo
Jeremy Mineau 12 Menlo-Atherton
Kyle Shackleton 12 Carlmont
Nathan Huerta 11 NMC
Ben Sitler 10 St.Francis
Patrick Parsel 12 Carmel
Drew Shackleton 12 Carlmont
Dylan Fitzpatrick 11 Carmel
Andrew Lipkin 12 Gunn
Jose Tapia 11 Watsonville
Dominic Vogl 12 Serra
Mike Delaurenti 12 Serra
Jose Gutierez 12 Lick
Keli Parker 11 NMC
Jason Yow 11 Monta Vista
Russell Bush 12 San Lorenzo
Jonathan Rivera 12 San Benito
Jack Welch 12 Redwood Christian
Ngoan Phan 12 Willow Glen
Alberto Corres 11 Seaside
Kevin Chavez 12 St. Francis
Daniel Jensen 12 Silver Creek
Evan Anderson 12 Menlo-Atherton
Alfredo Lopez 9 San Benito

Click here for updated CCS Individual Rankings
League Rankings!
9/15/03
Seaside and Alisal @ NMC
Varsity, JV and Frosh/Soph are victorious!

9/22/03
Vs. Alvarez @ Seaside
Varsity, JV and Frosh/Soph are victorious!

9/29/03
Vs. MVC @ NMC
Varsity, JV and Frosh/Soph are victorious, again!

10/6/03
Vs. Monterey @ Seaside
Varsity, JV and Forsh/Soph wrap up the duals undefeated!

Current standings

Varsity 5-0
Junior Varsity 5-0
Frosh/Soph 5-0
Runner of the Meet!
9/6/03 Sam List (JR) has worked his tail off in the past two years. He ran 24 minutes at Earlybird as a Freshman, 19 minutes as a sophomore and ran a huge 17:33 this year! Keep it up Sam, the first athlete of the meet for 2003!!

9/13/03 Roberto Romero (SO) ran to a great 3rd place finish in the JV/FS race at ED SIAS and is honored as runner of the week!! MUY BIEN

9/20/03 Kenny Padilla (JR) ran away with the JV race at Chieftain and for his efforts he receives this weeks "Runner of the week"!

9/27/03 Enoch Trujillo (JR) ran his was to a 3rd place Stanford finish ans is knocking on the Varsity door!

10/14/03 Jeremy Schrock (SO) ran to a top 10 Clovis finish and a huge PR at 17:22 for 5k helping the FS team to a 3rd place finish!


Look at the condors fly!! 4:48 first mile!!!
If you'd like to review our amazing track season... below!
Click below!
What a great trip! We had 32 athletes enjoy a wonderful week of training and camping up in Lake Tahoe. Join us next year!!
Runner's Workshop