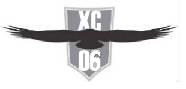 2006 Condor Cross Country
Four Time Defending MBL Champs!
Three CCS Titles in 5 years!!
82 Straight Dual Meet Wins!
 

December 2, 2006
Portland, Oregon

The top 20 teams in the nation qualify for this awesome race!
BUT, in 2006 they offered an "open" race for the first 30 teams to register and we jumped at the chance to run! The guys ran great and placed 14th in a very competitive environment with great teams, ankle deep mud, hay bales, freezing temperatures, long spikes, and very fast Kenyans!. Michael Machado and Antonio Dorado led the squad once again.
Click below for full coverage!
STATE CHAMPIONSHIPS!

November 25th
Woodward Park, Fresno


 



Antonio runs 14th fastest NMC time ever at Woodward!

Congratulations to the Boys' and Girls' Cross Country teams as they competed in the State Championships at Woodward Park in Fresno. The girls made their 2nd state appearance and their first in 12 years. They improved on their 14th place finish in 1994 with a fantastic 11th place finish. They were led by freshman phenom Jovita Trujillo! She place 11th and missed all-state by 1 second! The boys made their 8th state appearance and qualified an incredible 5 years running. They placed 17th and were led by Antonio Dorado in 42nd at 16:40. The time moves him to 14th on the all-time NMC list. Congrats Condors!
Click below for full coverage!



Martin Aguilar drew this...
NEW! Click here for an updated NMC Cross Country Wall of Fame for individuals and teams!!
CCS!

CCS Championships!

Toro Park, Salinas
Saturday, November 11, 2006

First and foremost. Our ladies are CCS CHAMPS!! First CCS title for ANY girls' sport at NMC! CONGRATS LADIES, VERY WELL DESERVED. Their first trip to state in 12 years!

The guys ran very well as a team with their best team effort of the year for 3rd and a 5th ticket in a row to state! Congrats boys! Make us proud at state! Click below for coverage!
 
 



Teams sweep team and individual MBL Titles!



Machado and Dorado go 1-2 in 16:16!

Congratulations to the Boys Cross Country teams for sweeping the individual and team championships at the MBL Finals on Saturday. The Varsity won their 16th league title and their 5th in a row by over 40 points! They were led by the dynamic duo of Michael Machado and Antonio Dorado as they placed 1st and 2nd with identical 16:16 times. Those times make them the 6th and 7th fastest Condors ever! Jesus Ayala had a big breakthrough in 4th at 16:49 and Manuel Esparza made 1st team all league for the 2nd year in a row in 7th at 17:24. Francisco Cornejo was 8th in 17:29 to round out the scoring. Alexis Romero was 14th in 18:10 and Luis Cortez was 18th in 18:30. Leading the JV charge was race winner Andres Munoz in 18:04 and the team won by 26 points with 6 Condors in the top 8! The Frosh/Soph team was led by race winner Andrew Pierce at 18:20 and the team shined sweeping the top 4 spots and winning by 17 points. Cogratulations for the great year and good luck to the Varsity team as they attempt to win their 4th CCS Title in the last 6 years on Saturday, November 11th at Toro Park in Salinas. Go Condors!
 

Disneyland was a blast and the team does a nice job at Mt. Sac with an 8th place sweepstakes showing among the elite state teams!
Machado continues to lead the crew with a 15th place 16:22 run! The time moves him to #7 All-time at NMC! Antonio is close once again in 18th at 16:25, #9 All-time! Miguel is consistent at 17:09, and Jesus has a nice PR at 17:14, good for 25th all-time. Francisco rounds out the scoring at 17:25, good for 30th All-time.
Nice job guys and good luck as you go for a 5th MBL title in a row and a 16th title overall this Saturday at Toro Park!
Click below for full coverage!
Click here for nice article on MBL wins at Pinto Lake!
The Crystal Springs Invite was a great meet for the Condors that ran! As the Varsity rested to get ready for Mt. SAC, the JV/FS picked up the slack and placed 2nd in the regular varsity race! Great efforts and big personal bests for most!
Also, the team swept Watsonville, PV, and MVC to finish the MBL season UNDEFEATED in all three divisions!
Check below for results!

Updated meet by meet team results!
Stanford Invite!
Saturday Sept. 30th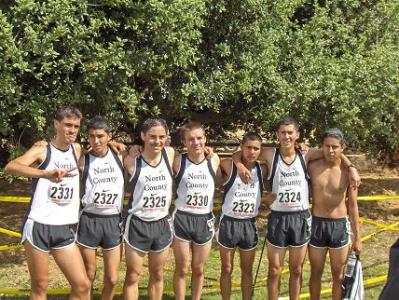 The team had a rough outing in 10th with a couple of nagging injuries but will rebound soon! Machado (15th-16:22) and Dorado (17th-16:26) once again led the charge with fine runs!
The JV shined with a 24 second 1-5 gap and a nice 5th place showing!
Congrats at the Madera Invite as we ran with our good friends!
Team WINS the 11th/12th grade small schools race and places SECOND in the 9th/10th grade race!
Also, the team is 3rd overall to NTN ranked Madera and tough Buchanan squad!
Click below for results!
The team splits as the Varsity headed to the elite Woodbridge meet in LA and the JV/FS competed at Chieftain!
Michael and Antonio blazed the LA night in 15:24 and 15:25. Those times move them to #3 & #4 right behind Keli Parker! Esparza ran great at 15:44. Miguel was 16:22, Jesus 16:40, & Francisco 16:48. The team results were being corrected and are linked below! Also, check out the updated team records with Woodbridge results included!

Kaufmann leads the charge at Chieftain going under 18:00 for the 1st time.

The teams stayed busy with our first duals at Seaside and the the Varsity, JV, and FS all swept their races against Seaside, Monterey, & Pajaro Valley! 9-0 to kick off our MBL Defense! Team results are linked below.
Check out the Alumni Corner! Nate, Keli, Pelon, Jose, Ivan, Albert and others running in college!
Click here for a great photo album of the 2006 season made by Coach Matsumura! Thanks Coach!
EARLYBIRD INVITATIONAL
Dyestatcal coverage of Earlybird!
Pajaronian article on Juniors' Earlybird win!
Congratulations to the cross country team for putting on the greatest Earlybird ever on Saturday at Toro Park! Almost 60 schools and over 2100 runners particpated, both meet records!
The boys had a great day and were led by the Junior Team with a dominating win! Michael Machado was the top Condor in 8th at 16:32. Antonio Dorado was 10th at 16:43. Manuel Esparza was 16th at 17:01. Miguel Camarena was 20th with 17:22 and rounding out the scoring was Jesus Ayala in 26th at 17:35. Michael has moved to #10 ALL TIME for NMC at Toro and Antonio has moved to #17 ALL TIME! Check the link for updated all time lists!
Overall, the team placed 2nd out of the CCS teams in their division and it looks like another great year with another shot at a CCS Title.
Congratulations to all that ran and special thanks to all of the staff and students that helped at the meet!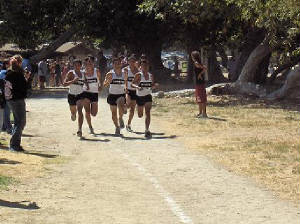 We kick off the season at Toro Team Builder!Varsity wins with 1 second 1-5 spread! JV scores a perfect 15!FS places 2nd!Girls Varsity goes 2-6 for the win!
Click below for results!
Varsity Mini Camp with Madera was awesome! Click here for some great pictures!
Date

Coverage

Toro Team-builder @ Toro Park, Salinas

Var 1st, JV 1st (Perfect 15!), FS 2nd

Earlybird @ Toro Park, Salinas

Chieftain Invite @ Toro Park, Salinas

Last year Varsity 3rd, JV 2nd, FS 6th!

Woodbridge Invite @ Los Angeles

We return to the night of speed!

Pajaro Valley, Monterey, & Seaside Duals @ Seaside HS

3-0 to kick off our league defense!

 

Madera Invite @ Town & Country Park, Madera

Stanford Invite @ Stanford

2 time champs 2003 & 2004!!

 
 
 

Crystal Springs Invite @ Crystal Springs, Belmont

Get on the CCS course for 2007!!

PV, MVC, & Watsonville @ Pinto Lake, Watsonville

 
 
 
 
 
 
 

Mt. Sac Invite @ Mt. Sac College, Walnut

Fun trip down south for HUGE meet!

MBL Finals @ Toro Park, Salinas

FOUR TIME DEFENDING CHAMPS!!

CCS Finals @ Toro Park, Salinas

We go for a 3rd title in 4 years!!

State Champs @ Woodward Park, Fresno

State baby!!!! 12th in 2002, 4th in 2003, 2nd in 2004, 18th in 2005!! What about 2006?

Footlocker West @ Mt. Sac College, Walnut

Open meet to try to make Nationals!

 

Nike Team Nationals @ Portland, Or

Top teams go for National team title!

 

Footlocker Nationals @ Balboa Park, San Diego

Top individuals go for National title!